The completion of Annapolis Valley's first residential hospice was celebrated with a quiet ribbon cutting.   Read Press Release:    Valley Hospice celebrates completion!
Contact the Valley Hospice residence: 902.678-6555 (NSH)
Contact the Valley Hospice Foundation office:  902.679.3471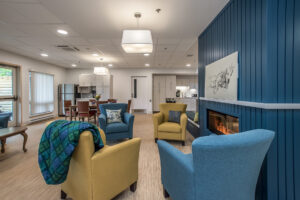 Find out more about admission to Valley Hospice here
The Valley Hospice Foundation began in response to a community need to offer Valley residents – who for any reason are unable to die at home – and their loved ones a welcoming, quiet and comfortable alternative to hospital-based palliative care.
We believe that the spiritual, cultural and emotional aspects of care at the end-of-life are best served in a peaceful and home like place that has access to nature.
The new 10 bedroom Hospice residence is located in a wooded area on a site near Valley Regional Hospital. It sits on a knoll with the trees between it and Brooklyn Street in Kentville NS.
---
HOW YOU CAN HELP
The Valley Hospice Foundation relies on the generosity and kindness of individuals and organizations to raise funds for the Valley Hospice. In addition to the money raised third party events can raise the profile of the hospice and create new friends for the work of the Hospice.
What is the Circle of Care?
It is comprised of donors to the Valley Hospice Foundation who have made a commitment to a monthly donation of any size.
If you are interested in volunteering to help with our fundraising events or assist us in other ways we would love to hear from you.