HoliStay Raffle 2023
NOW until draw date:   January 13, 2024
HoliStay Raffle is back with over $12,000 in fantastic prizes featuring Nova Scotia escapes, local experiences and quality products.  New this year is an unforgettable BONUS PRIZE!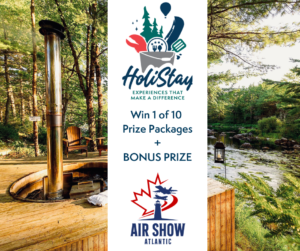 Tickets: $50 each for chance to win one of 10 Prize Packages + BONUS PRIZE*
Tickets on sale from September 11 to January 13, 2024. (sales close at 5pm)
*Ticket holders are eligible to win BOTH the Bonus Prize & one of 10 incredible prize packages!
Bonus Prize!
Air Show Atlantic VIP Experience – Value $2,500     BUY TICKETS NOW! 
Experience aviation at its best! Your group of five family members will enjoy a VIP package at the 2024 Air Show Atlantic. This includes VIP level access with premium seats for the military and civilian performances at the Air Show, a flight with one of the performers, and yes, even a tandem parachute jump for one person! (Note: restrictions apply.) A bucket list package for sure!
Win 1 of the 10 Prize Packages:
#1. Luxury Wilderness Escape                  Value: $2,480                                                   BUY TICKETS NOW!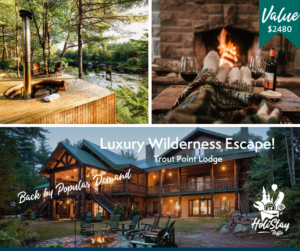 Back by popular demand! Enter a world where nature envelops and nurtures you with two nights for two in a deluxe junior suite at the luxurious Trout Point Lodge*. Savour the delicious breakfasts each morning, two gourmet 3-course dinners and choose a gourmet packed lunch, or lunch in the Great Room/Patio, one day. Take part in the complimentary scheduled guided outdoor activities, including star gazing and forest bathing. Enjoy access to all resort facilities including a wood-fired hot tub by the Tusket River, outdoor barrel sauna, kayaks, canoes and stand-up paddle boards. *Prize must be redeemed in the 2024 season.
#2.   Evangeline Beach Bliss                      Value: $1,304                                                     BUY TICKETS NOW!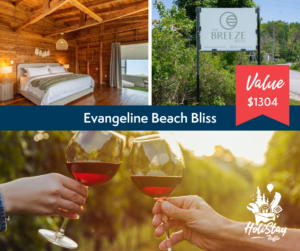 The past meets the present with new breezy accommodations and classic automobiles.  The Breeze Motel pays homage to the history of Evangeline Beach, where you will enjoy a King Suite with attached fireside room and stunning beach views.   There is only one way to elevate this experience, and that is to include a classic Vintage Vino Tour for two adults to select Annapolis Valley Vineyards.  Your chariot awaits!
#3.  Harbour(s) Retreat!                             Value: $1,000                                                      BUY TICKETS NOW!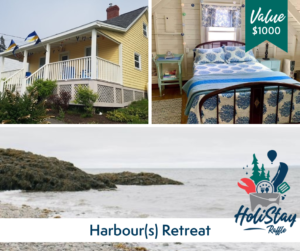 This prize package offers you a two night stay in Halls Harbour at the private Sunset Cottage where the views of the Bay of Fundy are amazing.  Take a short walk to enjoy a complimentary dinner at the famous Halls Harbour Lobster Pound or pick up lobster to enjoy at the cottage. To ensure that your stay is a true retreat you will receive a gift certificate to enjoy the new Saltair Nordic Spa, located at nearby Baxter's Harbour.
#4.  Home Getaway                                       Value: $994                                                         BUY TICKETS NOW!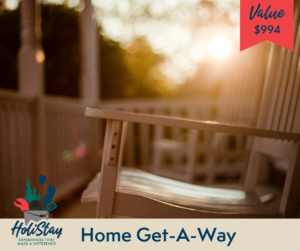 Enjoy a cozy staycation on your front porch with a high-quality Berlin Garden Porch Rocker from Country Stoves & Sunrooms. Wrap yourself in a beautiful hand-crafted quilt as you watch the world go by – all in the comfort of your own home. Together with a compelling page-turner of a book, your home getaway is complete!
#5.  Explore Eastern Shore                        Value: $798                                                         BUY TICKETS NOW!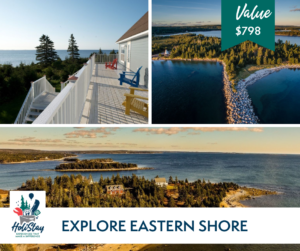 Located on 25 spectacular oceanfront acres, Seawind Landing Country Inn* is your destination for a perfect sea-side getaway and nature experience.  You will enjoy a two-night all-inclusive getaway for two with wine on the deck, candle lit dinner both nights, breakfast each morning, and a picnic lunch for a day of exploring. Join Nova Nature Adventures for a "Seacoasts and Sandcastles" excursion at nearby tidal pools and beaches. Finally, inspire your sense of wonder with a Dark Skies of Tor Bay stargazing adventure (weather permitting).
*The inn is located on the Eastern Shore in the historic Acadian village of Charlos Cove, about halfway between Halifax and the Cabot Trail along the Marine Drive, one of Nova Scotia's most scenic coastal routes.
#6.  Flying Apron Culinary Get-a-way     Value: $790                                                       BUY TICKETS NOW!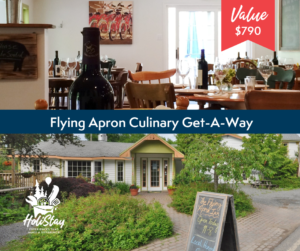 This is a Flying Apron Inn and Cookery adventure for two that starts with a private cooking class with Chef Chris Velden where you will create an amazing 4-course meal from the freshest local ingredients. In addition to copies of the recipes to take home, each participant gets their very own Flying Apron apron. After the class, retire to your lovely Inn room for the night and start the next morning with a fresh, hot breakfast in their restaurant. Before you leave, browse the Gourmet Food Shop for treats to take home and look for your next favorite cookbook in the Used Book Store.
#7.  Wild Food Experience                          Value: $764                                                      BUY TICKETS NOW!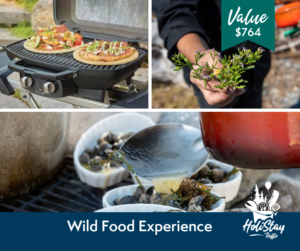 Use your Gourmet by Nature gift certificates to book a guided experience where you will be shown how to find wild food and dine in the outdoors, gourmet style. These experiences are typically within 20 minutes of Port Williams. Using your newfound skills, you can take your portable Napoleon BBQ with you on your next foraging adventure!
#8.  Valley Sky Tour                                      Value: $587                                                         BUY TICKETS NOW! 
Taking off in Greenwood, your certified pilots from Annapolis Valley Flight Center will take your party of three for a scenic flight over the Annapolis Valley, including aerial views of the iconic Cape Split. Keep your eyes on the skies with a smart pair of Fossil aviator sunglasses from Dave's Eye Wear.
#9.  "Four The Birds"                                    Value: $578                                                   BUY TICKETS NOW!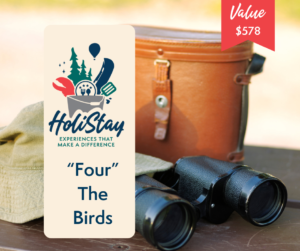 Whether you are novice birdwatchers or building your life lists, your party of four will enjoy a guided birding tour with renowned birder and nature photographer, Dr. Richard Stern. This excursion includes a stop for lunch where you can compare notes. And what birding wardrobe is complete without a pair of hiking boots and a couple of Tilley hats?
#10.  The Lure of Oak Island                      Value: $573                                                        BUY TICKETS NOW!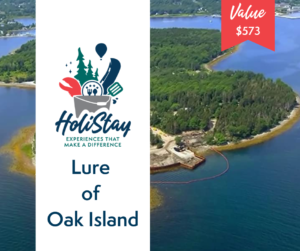 For people who are drawn to the lure of an unknown vast treasure on Oak Island this prize is for you!   Your adventure includes a guided Salty Dog Sea Tour for two that explores the mystery of Oak Island and the magic of Mahone Bay area.  Prize package provides you with a $400 gift certificate for use at the Oak Island Inn.  You will find a variety of accommodations and dining options, so apply it to the one that suits you.
 Thank you for your support!
The funds raised helps to support the care and comfort of individuals in hospice or palliative care as they approach their end of life. Non-medical programs and services enhance physical, emotional, psychological and spiritual well-being – not only for the individual, but also for those who love and care for them during this journey.
Your support of the HoliStay Raffle helps the Foundation fund a new Music Therapy program, and supply end-of-life Care Bags to the home palliative care team. We provide enhancements at the Valley Hospice, fund programs to educate the community, support grief and bereavement, and foster excellence in patient care through professional development for staff and volunteers.