Impact on the Community
Valley Hospice Residence
With the generosity of individuals, corporations, foundations and community groups our Foundation was able to commit over $4 million to support the construction of our beloved Valley Hospice.
Martha Stewart, Chair of Valley Hospice Foundation shares a photo of her Mom a month before she died.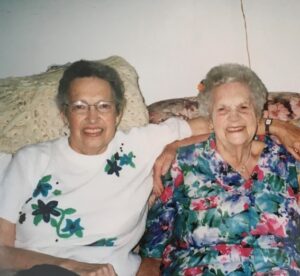 "She was only 69 years old and had been diagnosed with pancreatic cancer only five months earlier. It was 2002 and at that time there was no palliative care to provide support for my Dad and five siblings. She wanted to die at home so we made sure that happened but it was extremely difficult as we did not know what to expect during the days leading up to her death and then the actual death itself. My, grandmother, was devastated to have her daughter predecease her only to be diagnosed with cancer three years later in 2005. Fortunately, for everyone, a palliative care doctor had just been hired in the Annapolis Valley and made home visits which I was so grateful to attend with my grandmother. Our family had two completely different experiences with death and dying."
The doors are now opened to the new Valley Hospice offering a new option of care.   The hospice is a place where individuals can spend their final days in a place that is homelike surrounded by the things and people that they love. It is a place where caring staff go beyond supporting a pain-free death to supporting living until the end.  
Grief and Bereavement Support
The Friends in Bereavement grief support groups provide support for those grieving the death or approaching death of a loved one at no cost to participants.  Twice a month sessions take place in Kentville, Berwick and Bridgetown.  Learn more by contacting:  Jennifer Longley at (902) 681-8239.
"Everyone is different, everyone has been hurting, everyone deals with their "hurts" in a different way-but sharing, laughing, crying and realizing that you are not alone is a real catharsis."  Anonymous participant of the Friends in Bereavement Retreat – Brier Island, NS.
Hospice Palliative Care Volunteer Visiting
Joanne Whitenect is one of the Valley region's many palliative care volunteers.
"I visit my client once a week. We play crib and talk about politics. His face lights up when I come in the room – I can tell he's glad to see me," says Joanne. "Being a palliative care volunteer is important because there comes a time when you should focus more on the companionship and comfort of clients, while providing support and breaks to their loved ones," says Joanne.
Hospice Palliative Care Volunteers are important members of the care team.  They serve clients at home, in hospital and in the hospice.  Click here to learn more.