HoliStay Raffle 2022!
September 6th, 2022 at 8:00am

-

November 19th, 2022 at 5:00pm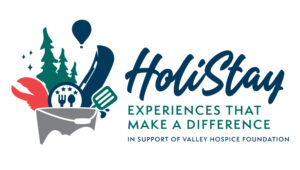 We are pleased to announce the lucky winners of our 2022 HoliStay Raffle!
1.  Luxury Wilderness Getaway – Susan Tidman #A-1171
2. Canoe believe it? – Ingrid Blais #A-1516
3. Glamp and Grill – Heather Bishop #A-1229
4. Go Coastal – Audrey Sanson-Wells #A-1305
5. Smoking Hot! – Elizabeth Milberry #A1407
6. Lobsterpalooza – Cheryl Pugh #A-1551
7. Hip Nautic Halifax –  A.A. Munroe #A-1396
8. Explore Bras d'Or – Donna Bastock #A-1082
9. Up, up, and away… – Barbara Buchanan #A-1530
10. Martock Climb & Dine – Nancy Henry #A-1099
Thank you goes out to everyone who has made our 2nd annual HoliStay Raffle a success. Over 600 ticket sold. (200 more that last year)!
Raffle is now closed!
HoliStay Raffle is back with over $10,000 in prizes to be won.
Tickets: $50 each for chance to win one of 10 Prize Packages
Tickets on sale from September 6 to November 19 (sales close at 5pm)
The funds raised in the HoliStay Raffle will go directly towards the addition of Music Therapy for the residents of Valley Hospice and their families and caregivers.  
2022 PRIZE LIST:
---
Luxury Wilderness Getaway  Value:  $2435        
This prize package takes you to a world where nature envelops and nurtures you while the amenities delight you. Enjoy two nights in a deluxe junior suite at beautiful world renown Trout Point Lodge. Savor the luxurious breakfasts each morning and the gourmet 3-course dinners in the evening. Choose a gourmet packed lunch or lunch in the Great Room/Patio one day. Take part in the complimentary scheduled guided outdoor activities including star gazing forest bathing and more. Finally, enjoy access to all resort facilities including a wood-fired hot tub by the Tusket River, outdoor barrel sauna, kayaks, canoes and stand-up paddle boards. A "bucket list" prize package for sure!
---
Canoe believe it?  Value:  $1179
For people wanting to take advantage of Nova Scotia's many waterways, this is the prize package for you! This package contains a Pelican Canoe (15.5') and two paddles. Clear your mind of all the worries and stressors of daily life and enjoy seeing places and things you would never see from land.
---
Glamp and Grill   Value:   $1138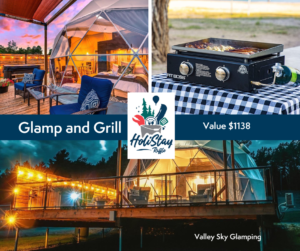 Valley Sky Glamping is an adult only, all-season getaway offering the finest of luxuries to accentuate the peace of mind that comes with this rural retreat in Grand Pre. Your home away from home is a dome equipped with two queen sized beds, amenities for food preparation, a hot tub, and air conditioning. To help you prepare meals this package provides you with your own Pit Boss Portable 2 Burner Griddle. Enjoy it while glamping and at home. Finally, you will receive a Gather Here Charcuterie board to enjoy as you experience this amazing meeting of nature and comfort.
---
Go Coastal               Value: $ 911
What could be better than a day on Nova Scotia's South Shore? This package provides you with a $500.00 gift certificate for use at the Quarterdeck Resort. You will find a variety of accommodations, so apply your gift certificate to the one that suits you. Why be on the coast if you are not on the water? To help with this, the "Go Coastal" package contains a half day guided Sea Kayak Tour including a stop for a snack on the beach. And to ensure that you can get to the South Shore, you will receive a 100.00 gift certificate for gas! Enjoy!
---
Smoking Hot!          Value:  $ 904
Since the beginning of time, cooking with fire has meant gathering the clan outdoors. Nothing beats the sweet smell of smoke and meat in the air, a drink in hand, and friends and family at the table. To help with your "smoking hot" gatherings this package contains a Kamado Joe Junior BBQ (good for barbequing and/or smoking), a gift certificate for meat, and some great local hot sauces.
---
Lobsterpalooza        Value:  $ 882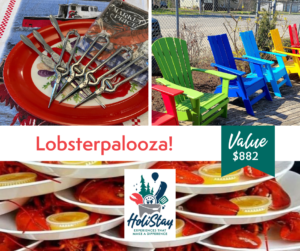 What does everyone enjoy when friends and families gather in Nova Scotia? Why, lobster of course! The Lobsterpalooza package provides you with a $200.00 gift certificate for lobster from Halls Harbour Lobster Pound, a lobster picnic pack including shears, picks, trays and napkins and a Beaver Springs Deluxe Adirondack chair in which to sit and enjoy the feast!
---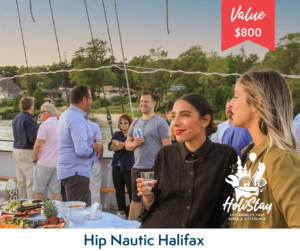 Hip Nautic Halifax    Value:  $ 802
Escape for a day relaxing day in Halifax. This package provides you with a Wines on the Water Harbour Tour for two. During this 2-hour cruise, a local Sommelier will share information about each wine paired with a tasting item prepared by a culinary team. The cruise will be highlighted by music by local musicians, without whom it would not be a true Nova Scotian Experience!
Spend the night at a downtown Halifax hotel and enjoy a complimentary breakfast in the morning.
---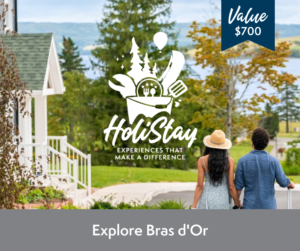 Explore Bras d'Or        Value:  $ 700
This package takes you to the Inverary Resort in the Heart of Cape Breton on the sparkling shores of the Bras d'Or Lakes. Enjoy a getaway for two for two nights. Your stay includes sparkling wine and charcuterie snack board served lake side at dusk with cozy blankets. Start each morning with complimentary breakfasts and then enjoy any of the non-motorized activities- kayaks, bicycles, and/or paddleboards. And, to help you with this trip to Cape Breton we have included a 100.00 gift certificate for gas.
---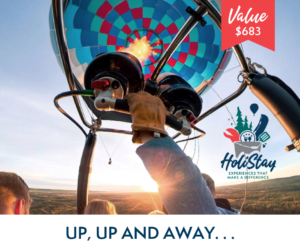 Up, up, and away. . .      Value:   $ 683
This prize package offers the adventure of a lifetime, a Sunrise Flight for two in a hot air balloon. East Coast Balloon Adventures will provide you with a bird's eye view of the Annapolis Valley as it wakes up in the morning. You will experience breathtaking views of lakes, orchards and vineyards, towns and villages and people on the ground who wish they were flying in the air with you! When you return to earth reflect on your adventure at the Port Pub & Bistro where you can use your gift certificate for lunch.
---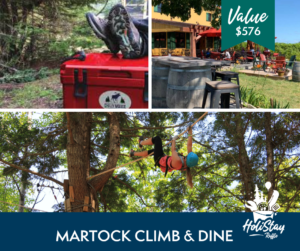 Martock Climb & Dine   Value:   $ 576
This package is not for the faint of heart! It offers a pass for four to the Ontree Fun and Adventure Park. There you will have the opportunity to try 18 high rope courses and 60 ziplines covering more than 120 acres. To ensure that you keep up your energy you will also get a Chilly Moose Cooler Pack containing drinks and treats. And when your day ends use your gift certificate to have dinner across the street at Bent Ridge where you will find a small batch winery, craft brewery and an amazing Latin-inspired restaurant.
---
Valley Hospice Foundation is proud that HoliStay Raffle has become a tradition that supports local! 
Our prizes come from partnerships across Nova Scotia and many from our Annapolis Valley community.    
HoliStay 2022 partners include:
Ambassatours Gray Line
Bent Ridge Winery
Canadian Tire, New Minas
Candle Box Kayaking
Country Stoves and Sunrooms
East Coast Balloon Adventures
Gather Here Charcuterie
Halls Harbour Lobster/Cameron Seafoods
Inverary Resort
Ontree Fun & Adventure Park
Port Pub Bistro
Quarter Deck Resorts
Rewind 89.3
Rudi's Hot Sauce
Saunders Tartans and Gifts
TJ's Convenience Stores
Trout Point Lodge
Valley Sky Glamping
---
When you support the HoliStay Raffle you'll be making a meaningful difference.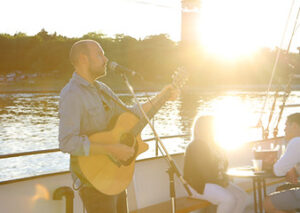 The funds raised in the HoliStay Raffle will go directly towards the addition of Music Therapy for the residents of Valley Hospice and their families and caregivers. 
Music therapy can provide hospice residents and/or their families with space to explore their emotions and prepare for the road ahead. These opportunities for self-reflection can lead to enhancing, rebuilding or healing relationships with family, friends, and loved ones. Music Therapy reduces loneliness, affects one's ability to relax, and promotes comfort and over-all quality of life.
---