Virtual Garden Party FUN-raiser!

Virtual Garden Party FUN-raiser!   
The COVID 19 pandemic has brought about new ways of doing things so, to get around the challenges that it presents, we are hosting a traditional garden party in an unusual way.
To raise the funds required to continue working on the grounds, patios, and gardens we are throwing a "virtual garden party". This online event will run from June 1st-30th.
During the month we will share garden photos, garden party recipes you might want to try, hints you can use in your own garden, flower arranging ideas and there will be draws for garden-related goodies.
Join our Facebook Garden Party Group here
Scroll down for more updates!
Goal:  $8000    Raised towards Goal:  $19,090!   Thank you!   
https://www.canadahelps.org/en/dn/m/49512/donation
Ways to participate in our Virtual Garden Party:
Make a donation to support the gardens at the hospice using the form or by mail:  Valley Hospice Foundation, 23 Earnscliffe Avenue, Wolfville, NS  B4P 1X4
Purchase a gift certificate from your favorite local nursery. We will provide you with a charitable tax receipt and you will have helped out a local business. Leave the certificate at the nursery and simply give us a call to let us know it is there. 902.679.3471.
Join us on June 10, 2020 at 7 pm for the Valley Hospice Foundation AGM via Zoom. We will take you on a virtual tour of the new Hospice.    You must register by contacting dale.sanford@nshealth.ca .
Join our Facebook Garden Party Group here  We want to hear from you and we hope you will share photos of your garden and your garden wisdom or E-mail a photo of your garden.
June 15. 2020  Update
It has really been a great couple weeks raising $6798 already! ($2700 in Gift Certificates, $4098 donations and a Paperbark Maple value $200) THANK YOU!
We completed the plantings between the patios and the furniture arrived.  Next we will add some colorful planters.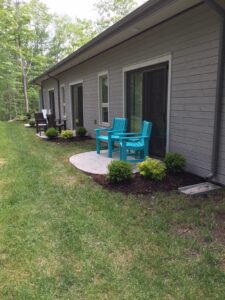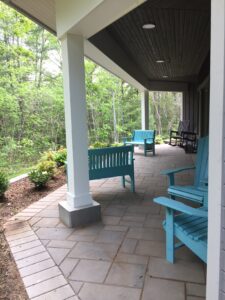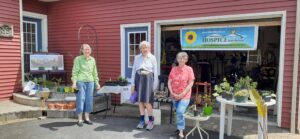 These women hosted a plant sale on Bishop Avenue and raised $782.95!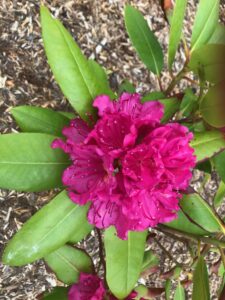 New beginnings as we witnessed our first bloom in the gardens at the Hospice.
Thank you for all your wonderful photos being posting on our page:   Join Facebook Group  Keep up the good work.
June 5, 2020 Update 
We're so excited to give you an update to our Virtual Garden Party FUN-raiser.
After just one week we have raised $3900 to help the gardens at the Hospice!  This includes donated gift certificates to local nurseries in the amount of $2000.  We love that you've chosen to support us and our community this way.  Also in the mix is a beautiful Paperbark Maple from The Briar Patch Garden Centre.  Thank you!
ENTER TO WIN!  Draws will take place June 15 and June 30th. 
You owe it to yourself to seek out and try some of the many ciders produced in our Valley. For our Garden Party we're leaning towards Earl Blue from Annapolis Cider Company or Blueberry Ginger from Maritime Express Cider Co Ltd but we want to know your favorites too.
We know that not everyone is able to join us on Facebook to enter our contests, but you can still get in on a chance to win.
Our Garden Party Facebook Group has over 100 members and they are sharing all kinds of ideas and garden tips.  So much fun.  Here's just a few examples: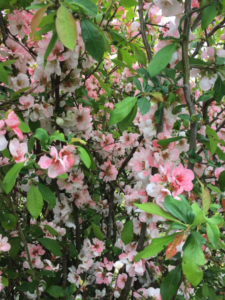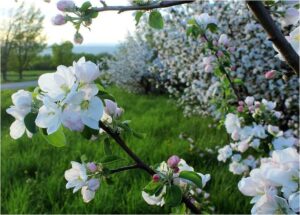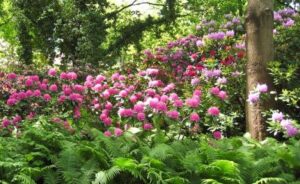 Check out these links that have been shared for tips and recipes:
Lavender Scones:
https://lavendercanada.com/blogs/from-the-garden/recipe-lavender-blueberry-scones?fbclid=IwAR07LStfXB801ugsXiBo4mCB_4x6myvVZat6Gnqp4QPSUj1UTTzGn_rxzb4
How to use your lilacs in bouquets:
https://twobirdsonestonefarm.com/blog/
Taking Care of your Hanging Baskets:
https://oldworldgardenfarms.com/2017/07/16/keep-hanging-baskets-blooming/?fbclid=IwAR3HgS2vZqDMezn2mL-179iFdKo43R_szedK9fkrr6KCsUT_7IHu_xZeS_U
Enjoy!
Our Goal is to raise $8000 in the month of June!
The funds will be used to:
Complete the landscaping around the hospice
Plant "living walls" between the residents' patios to create privacy
Create a walkway in the woods behind the hospice
Purchase benches, planters, and a barbeque
To plant a garden is to believe in tomorrow – Audrey Hepburn
Here's a look towards the back patio of the hospice.  Ideas started early in the spring as we kept our distance while looking over the possibilities for the gardens and patios.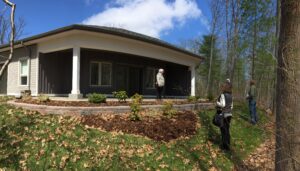 A little walk can help when loss feels heavy.
Each bedroom and the "quiet" room has a view into a wooded area behind the hospice.
Our vision is to clean up this area and create paths with benches and to add plantings suited to the natural beauty of the space.