Coldbrook & District Lions Club donates $10,000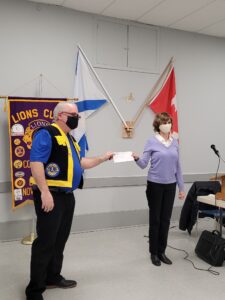 April 2021.  Valley Hospice Foundation is grateful for the generous gift of $10,000 from the Coldbrook & District Lions Club .  We were thrilled to attend their special evening in April where they gave away a total of $100,000 to ten groups serving our community.
We wish to congratulate this Club for their amazing work and for continuing to thrive through the pandemic.  Did you know that their projects include the Valley Drive-In Theatre, drive in bingo and radio bingo on AVR and much more.
Thank you for all you do for our Valley Community!