Dr. Balfour Mount, Father of Palliative Care in North America announced as honorary Valley Hospice Foundation patron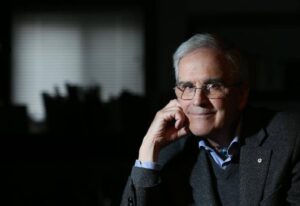 (Photo: Christinne Muschi, The Globe and Mail)
Dr. Balfour Mount, Father of Palliative Care in North America announced as honorary Valley Hospice Foundation patron
When you take the time to think about palliative care, you will be struck by its complexity. At its core, it's about compassionate end-of-life care for the dying and the living; supporting the whole person through individualized and multi-layered medical, nursing, psychological, social, cultural and spiritual care. These are the founding principles established by our dear friend Dr. Mount, who has dedicated his life's work to establishing palliative care in North America. That's why we're honoured to announce Dr. Mount, Father of Palliative Care in North America as an honorary patron of The Valley Hospice.
Born in Ottawa, Ontario, Dr. Mount was a urologic-cancer surgeon when he was influenced by Elisabeth Kubler-Ross' book On Death and Dying as well as his own experience as a cancer patient.
"What inspired the change from being a surgeon to initiating palliative care was a study we did to look at how people died in our healthcare system – and what we found was they died badly," said Dr. Mount in an interview with the Canadian Medical Hall of Fame. "That took me to England to visit St. Christopher's Hospice, which was what stimulated and inspired the second part of my career – which was in palliative care."
Dr. Mount, who coined the term "palliative care" is recognized worldwide as being instrumental in the establishment of palliative care in North America. He's admired by his peers and has become known for his compassion for all people with his vision of whole person care that has changed the way we care for those who are dying.
"Generally, our goal is to meet people where they are, not where we think they should be," said Dr. Mount in an interview with the Canadian Virtual Hospice. "We tend to consistently miss the psychosocial, existential, financial, spiritual needs of our patients if they had advance disease and were facing death. Our goal is quality of life."
Dr. Mount's vision of whole person care is echoed by those at the Valley Hospice Foundation. "Bal is such a warm and caring person, and those characteristics are translated in his work," said Diana Patterson, Valley Hospice Foundation Chair. "One aspect of hospice care that Bal stressed is that it isn't simply about the person who is dying; it's about the whole unit. All those who love the person who is dying need to be cared for in order to have a meaningful end of life."
When we think of one person who carried a torch to alleviate suffering and enhance dignity for terminally ill patients and their loved ones, we think of Dr. Mount.
"There are so many special people – many who have died – who've supported the hospice with their whole being, but we wouldn't even be talking about a Valley Hospice had it not been for Dr. Mount's work," said Fern Brydon, Manager of Hospice and Palliative Care. "There is an absolute aura about him. Dr. Mount unintentionally shares the passion from his soul into the soul of those around him. He inspired us and gave us the encouragement to move on when there were times that it looked too far away."
Diana often reflects fondly on Dr. Mount's visit with the Valley Hospice Foundation's board of directors in the Valley in 2006. "Every time we faced challenges that we thought we couldn't overcome, Bal's words came back to us, causing us never to lose hope," said Diana. "He reminded us that the people of the Valley needed the hospice. We carried on, and here we are today about to open the Valley Hospice doors."
We cannot thank Dr. Mount enough for his friendship and for all that his work will continue to do for future Valley Hospice patients and their loved ones.
Dr. Mount's leadership, advocacy and inspiration will be evident in every aspect of the Valley Hospice and the Valley Hospice Foundation – and staff, patients, families and volunteers will be reminded and encouraged by his words which are installed on the hospice walls:
"In Palliative Care we work as a team using state of the art medical care coupled with attention to the multilayered challenges encountered at the end of life, thus enabling a shift from a preoccupation with suffering and anguish to a growing experience of integrity, wholeness and inner peace."
About Dr. Mount:
Dr. Mount is known for integrating palliative care as integral to humane health care. He is the Founding Director of the Royal Victoria Hospital Palliative Care Service, Founding Director of Palliative Care McGill, and Founding Director of the McGill Programs in Integrated Whole Person Care. He is the Eric M. Flanders Emeritus Professor of Palliative Care at McGill University, and was made a Member of the Order of Canada in 1985 (later promoted to Officer in 2003). He was made an Officer of the National Order of Quebec and was inducted into Canadian Medical Hall of Fame in 2018 for extraordinary improvements in human health. It's with great honor, gratitude and respect that we welcome Dr. Mount as honorary patron at the Valley Hospice Foundation.