Hospice near completion – April 14, 2020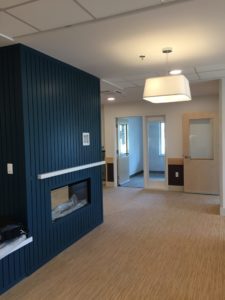 Fireplace feature inside the Hospice.
We are so pleased to report that progress continues towards completing our beloved Hospice.   The crew are on site and working on a few finishing touches to the new residence.   The interior is looking very different these days and we will share more photos with you very soon.  Commissioning of the building is nearly complete and has been reported to be going very well.  Some equipment has arrived and the furniture is scheduled for delivery this month.    We are so proud of the amazing people working through very challenging times to ensure the Hospice is ready to open.  A new hospice residence will be of primary importance to our community and we are excited to be getting close to the day when our Hospice will open.