Cooks Bring Comfort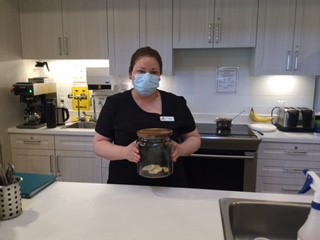 When people are upset or  lonely they often crave "comfort food". While the food may be different for each person, the sense of comfort it brings is common. Sometimes the foods remind us of fond memories or occasions, often just the smell of the food cooking connects us to times gone by, times spent with good friends or close relatives. It is that kind of comfort that the cooks at Valley Hospice aim to provide to the residents.
Tara Millett, one of two cooks at Valley Hospice starts the day by preparing a breakfast of choice for the residents. This is followed by baking cookies and as you know nothing smells quite as good as home-baked cookies and hot coffee mid-morning.
Everyday for Tara is different because it revolves around who is currently residing in the hospice and what they want to eat. The main meal might be crusted haddock with tzatziki sauce or chicken breast with apple and peach chutney. The menu rivals the choices offered at better restaurants. Down-home favorites include baked beans and fishcakes. If a resident would prefer something that is not on the menu the cooks will create something they like. I heard from a resident that the pizzas are wonderful, the salads beautiful and the desserts amazing!
One day with seven residents in the hospice Tara prepared six different dinners! Residents can choose a special meal if they wish. One resident wanted prime rib roast, and all the hospice residents benefitted from his special meal on the night it was served.
Tara shared a story about a resident who knew she would be coming to the hospice when the December flood damage was repaired. The other residents explained to her that she would be in a room named for a Nova Scotia bird. She ended up in the eagle room. When Tara went into visit her on her first morning in her new room she asked the new resident how she was feeling. "The eagle has landed", she replied.
Tara loves working with the hospice residents to create meals that bring them comfort. "I feel like I am working where I am meant to be", she commented, "I matter here, and I enjoy being part of a team providing care. When I come to work I think to myself- this place is magic!"