The Joseph Family – Cementing a Father's Legacy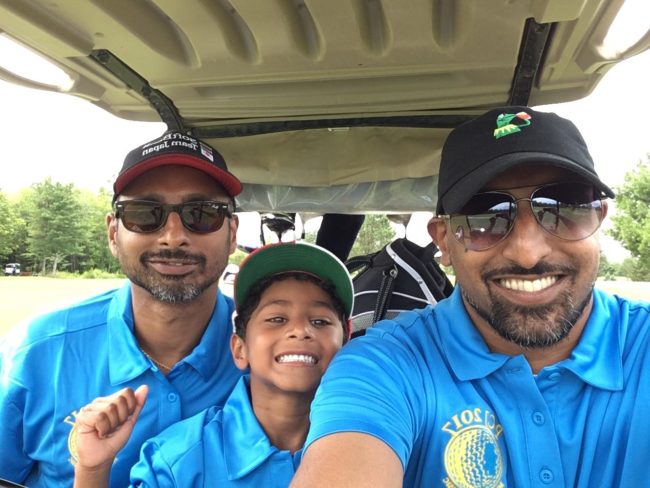 When P.C. "Joe" Joseph passed away six years ago from a rare form of central nervous system lymphoma in the brain, the Valley Hospice was not an option for his family.
"When my dad needed desperate help, our only option was to go to the hospital and hope to keep him calm; to provide more relief than we could at the family home," says Sebastian Joseph, one of Joe's two sons.
Sebastian happened to meet his wife (then girlfriend) during this period. As chance would have it, she was a neurologist who introduced him to the concept of hospice palliative care. "She mentioned hospice care to me one day and explained that it's a care centre providing full-time support for people with terminal illnesses, and that there were numerous hospices in Ontario."
Sebastian explains his wife was adamant that hospice care was the right option for Joe. "We only knew of one nearby facility in New Glasgow, Nova Scotia at the time, but she said there were probably around 40 in Toronto alone," says Sebastian. "I didn't want to put him on a plane at this stage in his illness, but I knew that hospice would have been an ideal and comfortable environment for my dad. It also would have lessened our family's care-taking duties."
Although Joe was unable to experience hospice care, the Joseph's received help from a strong support system of friends and family, which allowed them to provide great care for Joe. He passed away peacefully at his home on Monday, July 29, 2013.
The Joseph's are now community advocates and supporters for the Valley Hospice, understanding that not all families have the resources to provide the level of care needed for a loved one to pass away comfortably at home. Sebastian explains that they feel it's critical for communities to have infrastructure like Hospices to support families.
Because of Joe's love for golf, they now hold an annual memorial golf tournament at the Eagle Crest Golf Course for close friends and family in his memory, and in support of the Valley Hospice Foundation.
"My dad loved to golf and was a member at Eagle Crest for many years. Throughout the entire journey of his illness, he'd go through chemo, then two or three weeks later he'd be on the golf course for a week before going back for the next round of chemo," says Sebastian.
"When he started radiation – which is more draining than chemo – we'd drive straight from his appointment to the golf course before going back home. He tried to swing the club as long as he possibly could," says Sebastian. "Eagle Crest brought him so much comfort, and he always enjoyed interacting with people at the course."
The family also dedicated a park bench to Joe with an engraved plaque where golfers can sit and admire the view of Joe's favourite hole on the golf course.
Sebastian reached out to the Valley Hospice Foundation's executive director, Dale Sanford before the second tournament and decided the funds should support the hospice. "The Valley Hospice Foundation staff are phenomenal. It's a joy to see their passion and energy each year at the golf tournament," says Sebastian.
The annual PC Joseph Memorial Golf Classic usually brings in between 30-40 golfers each year and has raised thousands of dollars for the Valley Hospice to date.
"You can feel the love and support at the golf tournament. We walk through the course at Eagle Crest, look over at the next hole and see my best friend and his parents, or my next-door neighbour, or my mom and dad's friends golfing beside us," says Sebastian. "We celebrate silly awards – like best golf-cart driver, best dressed, and give out a sportsmanship award called the PC Joseph award, in honour of my dad."
Sebastian's nephew, Micah, joined the golf tournament when he was only two years old. "When he started with us, he could actually hit the ball about 50 yards off the tee – at two years old!" says Sebastian. "Now he gets to hit the first golf ball on the first hole every year, with a full gallery of people behind him taking photos and going wild, even if the ball only goes five feet."
"It's a very special moment for my family. I think it's probably one of the happiest days of the year for my mom, to get to reconnect with the community," says Sebastian.
Sebastian explains that his mother, Dr. Mary Joseph has been the driving force in their family to push the focus towards supporting the Hospice. She's also made and donated a number of quilts for Valley Hospice fundraising activities.
Growing up, Sebastian's parents instilled the value of giving back to the community within Sebastian and his brother Savior. "My dad would always say there are two professions in the world that directly impact society: teachers and doctors. Growing up, I could really see them making a difference in their fields," says Sebastian.
To the Joseph family, the golf tournament is about more than raising money. Their intention is to demonstrate that everyone can be involved within the community. Sebastian shares that the tournament also cements his father's legacy and role in community development as a teacher, community volunteer, and a basketball coach with 25 years of experience.
He now reflects on his own connection with the Valley Hospice Foundation. "The hospice is such a centre of conversation for my family now," says Sebastian. "I would have loved for the opportunity to connect with hospice services when we went through our journey with my dad."
"It would have also been nice to talk to another kid in his twenties dealing with the same type of situation, to discuss how the journey of a terminal illness can shape and impact the individuals supporting their loved one," says Sebastian. "These lessons are so important, and what we've learned along the way has made all members of the Joseph family grow as individuals with stronger character."
The Joseph family is unwavering in their support to ensure hospice palliative care is an option for dying Valley residents and their families in the future. They want to push the conversation within communities to increase awareness of the hospice and to help educate others in need of its services.
"There's so much more to end-of-life care than you could ever imagine," says Sebastian. "We tend to think that there's something sad about new beginnings – that you're closing the door on a chapter in your life. But the beauty of palliative care is that when you have to make those difficult decisions – the staff are there to help, and you won't feel alone."