A Virtual Gathering in the Garden July 1 – 31, 2021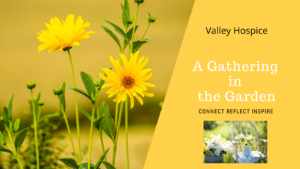 A virtual    Gathering in the Garden!   
We invite you to our virtual gathering in the garden throughout the month of July. Over the next month please share pictures of your garden or a garden that inspires you. Feel free to also share quotes, tips and information on plants to give away.
We will share photos of the hospice gardens and our volunteer gardeners
Join our private Facebook Group here: Gathering in the Garden!
Donate to our "Summer Shed Campaign" here:  Summer Shed Campaign
Watch on Wednesdays for special video presentations from local entrepreneurs who have gardens as the center of their business and of impressive gardens in the Valley.
Show us your Shed during the week July 11 – 17
Support our  Summer Shed Campaign to raise funds for our hospice garden shed.
Connect – Reflect – Inspire
Valley Hospice was designed to create as many connections with nature and wildlife as possible. Set in a wooded area all of the bedrooms have been designed with a small patios which have a view of the woods and seasonal flora.  Volunteer gardeners are creating gardens and keeping them tended. The residents, families and staff can enjoy the peaceful and serene oasis that has been lovingly created.
We believe that gardens are important to end-of-life care. People who garden recognize it as a therapeutic task which nurtures the spirit. A sense of solace and calm can also affect those who see gardens whether they are physically in the garden or viewing it from indoors. Gardens represent the circle of life, constantly changing in a pattern of birth, death and re-birth. This can be used to prompt meaningful and reflective discussion.
Join our private Facebook Group here: Gathering in the Garden!
Donate to our "Summer Shed Campaign" here:  Summer Shed Campaign
July 12, 2021 Update
Our Gathering in the Garden is a celebration of the impact that Valley Hospice and its surroundings has on the end-of-life experience for patients and families. It also highlights our generous community- those who volunteer, help us to raise funds and hold Valley Hospice in their heart as well as those who donate to the work of the hospice. There have already been a number of kind donations made toward the Summer Shed Campaign.
Most recently we received a gift of $10,000 made in loving memory of Patricia McOnie by her husband Charlie. This gift ensures that we can purchase the much needed shed. Charlie has been generous in many ways and his gifts to the Hospice come with a hope of helping to ease the burden on families as they support their loved ones. Please read the story of Pat and Charlie here:
Story here
We are pleased that any additional funds in the Summer Shed Campaign will now allow us to add shelving and lighting, as well as a ramp to the door of the shed. We will also be able to purchase additional gardening tools.
Thank you to everyone who is joining us in the online Garden Gathering through the month of July.