HoliStay Raffle
September 8th

-

November 17th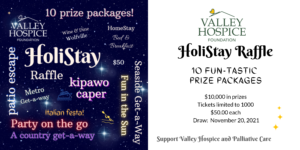 Purchase tickets on line: BUY TICKETS NOW!  
If you prefer to purchase your tickets from our office please contact us directly at 902.679.3471.
10 chances to win a fun-tastic prize package/support Valley Hospice and Palliative Care/Support Local Businesses
10 Fun-tastic Prize Packages 
# 1.  The Kipawo Caper – Value:  $2175
Remembering the M.V. Kipawo Ferry – once a vital link between Kingsport, Parrsboro and Wolfville.
A fantastic 24-hour journey for two to Parrsboro with Where It's At Tours and Huntley's Dive Shop.  You will arrive in Parrsboro (from Wolfville) aboard the Nova Endeavour for dinner at the Blackrock Bistro, an evening performance at the Ship's Company Theatre, and overnight accommodations with breakfast at The Gillespie House before returning to Wolfville across the water the next day.
#2.  Home-stay Bed & Breakfast – Value:  $2000
Imagine the joy of a quality queen size Sealy bed (mattress and box spring) from Windsor Home Hardware tailored for your comfort. Then get ready to enjoy an inspired brunch prepared by Inn at Grand Pre Winery and delivered straight to your home. This breakfast-in-bed prize is sure to delight!
#3.  Fun in the Sun – Value: $1390
This is your chance for a unique outdoor experience.  Win a Vapor-12xT Kayak along with accessories from the Trail Shop. Prize is paired with a Gourmet by Nature outdoor dining experience for six people to enjoy fresh fish & chips on the beach.  Watch Chef Sean cook over an open fire and experience the flavours that Nova Scotia does best.
#4.  Italian Festa! – Value:  $1020
The pizza prize package includes a propane Oonie Pizza Oven plus a wood fired pizza cooking class in the Wild Kitchen (Gourmet by Nature) for six people. You will learn how to make the perfect 'wild' dough base, a bright, fresh sauce and experiment with some local toppings.
#5  A Seaside Get-A-Way –  Value:  $850
Enjoy a two-night coastal escape to the historic Digby Pines Golf Resort and Spa overlooking the Annapolis Basin and the picturesque town of Digby.  Your stay includes a dinner for two, breakfast each day and the winner's choice of spa, golf or whale watching.
#6.  A Metro Get-A-Way – Value $620
Leave your cares behind as you enjoy an overnight escape to the Prince George Hotel in Halifax.  Your stay includes one night's accommodation, breakfast, parking, and dinner for two at Gio's – Halifax's swanky four diamond restaurant.   To complete the fun there are two tickets to Neptune Theatre.
#7.  Wine & Dine in Wolfville – Value $575
Stay and dine at the Tattingstone Inn.  This elegant prize package includes overnight stay in a classic room and dinner for two with wine pairings.  This is a  six-course exploration in flavours with Local Foraging Chef Nelson Penner. You will continue to enjoy Wolfville with a gift card to Lightfoots and Wolfville Vineyards, a family-owned and operated estate winery.
#8.  Your Patio Escape – Value $560
Make it a s'mores party under the stars with this Jackson Grill propane Fire Pit from Country Stove and Sunrooms.   This prize package includes a very hip Chilly Moose Cooler filled with refreshing sweet Maritime Express cider and a gift certificate to Lightfoot and Wolfville Vineyards.  To finish there's   s'mores from Petite Patrie Chocolate.
#9.  A Country Get-A-Way – Value $420
Your get-a-way starts with dinner for two at the Noodle Guy then escape to Canning for overnight stay with a full breakfast at the Farmhouse Inn and two tickets to Two Planks and a Passion summer theatre at the Ross Creek Centre for the Arts.  A gift certificate for Blomidon Estates is included to complete this country get-a-way.
#10.  A Party on the Go – Value $400
A portable Master Chef BBQ from Canadian Tire can go to the beach or to the camp.  We've got you covered with a gift certificate from  Meadowview Meats and a Chilly Moose Cooler topped up with sweet cider and gift card from Maritime Express Cider Co.