Hike for Valley Hospice – Fall Edition
September 27th, 2020 at 1:30pm

-

4:00pm
Hike for Valley Hospice 2020 
$20,000 Raised! 
Thank you Hikers, Donors and Volunteers!  
We wish to thank you, our hikers, donors and volunteers for making our 2020 Hike for Valley Hospice (fall edition) a great success.
We were unsure if the Covid-19 pandemic would stop us this year, but you didn't let us down.   70 Hikers, 20 Volunteers and legions of donors made this Hike a success!
$20,000 raised will support the care and comfort of those being cared for in the Hospice and in our community.
This year was made extra special with the opening of our new Valley Hospice.  It was wonderful to begin the 2020 Hike from the grounds of Valley Hospice.
It was a beautiful day for a hike and we look forward to continuing this tradition in 2021.
Thank you to We're Outside of Wolfville for donating these Cloudventure Trail Running Shoes.
Congratulations to Midge Lane, winner of our draw.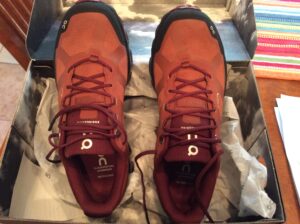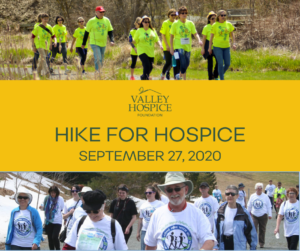 Hike with us … or…Hike from home – you decide!
Gathering to share this experience is at the heart of our Hike for Valley Hospice, however we realize that it is necessary to adapt to the pandemic landscape.  You have the option to join us for a group hike or to go completely virtual with your own hike.
Come Hike with us:  Meet up at the new Valley Hospice and join our guided 5 km hike to Miners Marsh on September 27, 2020.  Social groups of 10 and under are suggested.  We will stay safe and will practice physical distancing during the hike.
Hike from Home: Go for your own hike with family, friends or co-workers. Choose any place that is special to you.  Stay connected on social media and share photos#hikeforvalleyhospice.    Complete your hike on or before September 27, 2020.
Donate/Register: https://www.canadahelps.org/en/charities/valley-hospice-foundation/p2p/hike-2020
Keeping you safe…
 KEEPING YOU SAFE!
Valley Hospice Foundation and the Hike for Hospice Planning committee have developed guidelines to keep hikers, volunteers and staff safe while enjoying a guided Hike from our new Valley Hospice.   We have consulted and reviewed sources and guides provided by the Nova Scotia Government with-in the Communities, Culture and Heritage COVID-19 Prevention Guide and the Health Protection Act Order.
The Guidelines were developed with consideration of the following areas key to mitigating risks related to COVID-19:
Physical Distancing & Limited Touch Points
Hand Hygiene
Location (outdoor venue)
Limited activities and non-essential items
Communication (staff, volunteer and participants)
Virtual options
GUIDELINES:
All activities on Hike day will take place outdoors. No one will be permitted inside the Hospice.
When arriving and while hiking everyone must practice physical distancing (6 foot) outside of their social group of 10 (maximum) and must wear non-medical masks when not physically distanced.
Volunteers and staff who are working the event will wear non-medical masks during the event.
Everyone arriving on site will be required to sign in and provide organizers with their contact information for easy tracing.
To alleviate congestion there will be properly spaced stations, signage and volunteers positioned to monitor line-ups to ensure physical distancing.
Participants are encouraged to use on-line tools for collecting pledges and making donations.
In order to limit contact, there will be a drop off-box to facilitate donations by cash/cheque. Charitable tax receipts will be issued for donations $10 and over.  Please ensure that contact information is included with donations.
Hand washing station and bathroom facility will be available on site.
Participants are encouraged to bring along their own bottle filled with water.
Hikers will receive individually wrapped treat bag.
Hike volunteers will lead the Hike and will be positioned along the route to guide hikers.
There will be no post-hike activities.
Participants may consider our virtual Hike from Home
Should COVID-19 become present in the community we will shift activities to virtual Hike from Home
Call 902.679.3471 or email dale.sanford@nshealth.ca