Care and Comfort
DONATE NOW in support of  "Care and Comfort"!
Listen to Martha's Story  –   Martha Stewart, Chair of Valley Hospice Foundation 
A person's last days in our Hospice needs to be filled with a legacy of stories, music, laughter and time with friends and family.
There will be people of all ages in our Hospice and we aim to provide them with experiences that will remind them of the happy times in their lives.
A gift to our Care and Comfort Fund will provide services and items to facilitate a positive end of life experience.  This might include watching a movie with their family and enjoying some popcorn, listening to music in their beds with wireless headphones, having a manicure or pedicure, doing a puzzle, enjoying a vase of flowers in their room,  and being comforted by a quilt on their bed.
We would be looking to provide  special touches for the patients and their families.
Statistics Canada has reported that women are more likely to act as caregivers for their sick and dying family members.    We feel passionate about providing support for the caregivers while they are visiting their loved ones. Each of the ten rooms has the capacity for an extra bed should someone need or want to stay. This sometimes happens unexpectedly. Your support will help to provide items to make their stay more comfortable such as pillows and blankets, housecoats, socks and toiletries. Our beautiful family kitchen will be a place where family members and friends can gather and prepare a snack or have a cup of tea. Funds would be used to ensure the kitchen is adequately stocked.
Our Family Quiet Room is available to family members and friends to spend some quiet time alone or enjoy a TV show or movie on a tablet.
We would also like to be able to provide financial support for local travel and overnight stays near by for family and friends who are visiting our Hospice.
Our Valley Hospice is not just about providing exceptional medical care, it is about nurturing the spirit. Only 16-30% of Canadians who are dying have access to receive hospice, palliative and end-of-life care services. We want to provide a homelike environment where staff walk with the patients as they take their final journey.
Martha Stewart, Chair of Valley Hospice Foundation shares a photo of her Mom a month before she died.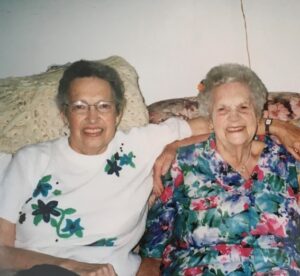 "She was only 69 years old and had been diagnosed with pancreatic cancer only five months earlier. It was 2002 and at that time there was no palliative care to provide support for my Dad and five siblings. She wanted to die at home so we made sure that happened but it was extremely difficult as we did not know what to expect during the days leading up to her death and then the actual death itself. My, grandmother, was devastated to have her daughter predecease her only to be diagnosed with cancer three years later in 2005. Fortunately, for everyone, a palliative care doctor had just been hired in the Annapolis Valley and made home visits which I was so grateful to attend with my grandmother. Our family had two completely different experiences with death and dying." 
Only two months ago the doors opened to the new Valley Hospice.   The hospice is a place where individuals can spend their final days in a place that is homelike surrounded by the things and people that they love. It is a place where caring staff go beyond supporting a pain-free death to supporting living until the end.