Flannel tie Non Gala!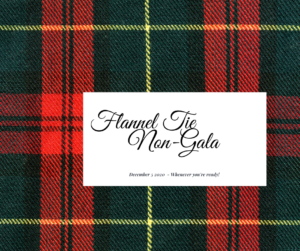 We are grateful to the following restaurants who have come on-board to help the hospice, each with their
own special offers for your Take Out while supporting Valley Hospice. See details below.
The Port Pub and Bistro  – Port Williams
Maritime Express Cider Co. – Kentville
The Church Brewing Co. – Wolfville 
Kings Arms Commons – Wolfville 
Flannel tie "Non- Gala" 
It is the time of year that we traditionally plan for the annual Valley Hospice Foundation Gala. This year COVID 19 and the resulting public health requirements have conspired against holding this event, so we are holding a non-gala, where you can support the hospice by not coming.
The non-gala is being held on Saturday December 5th (starting whenever you are ready)
Make this a win/win  -buy a ticket to the Flannel tie non-gala, then put on something comfy, find a five star movie, make some popcorn, and enjoy your evening off!
Join the Flannel tie non-gala Facebook group and follow what your friends and colleagues are planning to do as they chill out on Saturday December 5th.
Check in on Monday December 7 when we will  announce winners of some great prizes including Gift Certificates from Maritime Express Cider Co., The Church Brewery Co., A Donation in your name from the Port Pub & Bistro, and 2 Gift Baskets!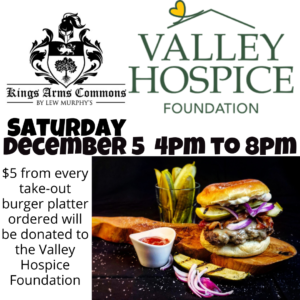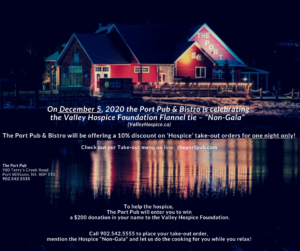 10% Discount on your take out meal at the Port Pub and a chance to win a donation in your name!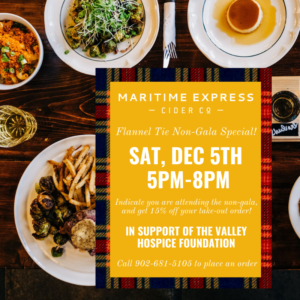 15% Discount on your take out meal and chance to win a gift certificate!